A Single Ray of Hope, LLC provides personal assistant and concierge services to busy individuals, families, and businesses in the Portage/Kalamazoo area. We know how precious your time is and that time is always in short supply. Turn to us for your day-to-day errands, personal assistant services, and business support. We can handle these tasks allowing you to focus on more important matters – your time, family and work. A Single Ray of Hope can help you bring balance and peace of mind into your life.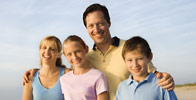 Families & Individuals
Trust us to tackle your to-do list so you can focus on what's most important to you. We'll have the dog walked, groceries bought & put away, and the dry cleaning in the closet before you're even home from work. Our services help you Reclaim Your Time!
Professionals
Spend your time focusing on your
business, not on time consuming administrative tasks. We can pro- vide clerical or virtual assistance, special event coordination, Sam's Club shopping and other errands.
Seniors
Whether living independently or in a retirement community...our ser- vices are designed to meet the needs of seniors that need a help- ing hand with household tasks, errands or shopping done for them or simply need a little company.
While You're Away
Going away for a few days, weeks or even months? Trust us to check on your home, water your plants, feed the pets, pick up your mail, and open your home for service repair workers. You'll have peace of mind knowing your home is safe and sound.